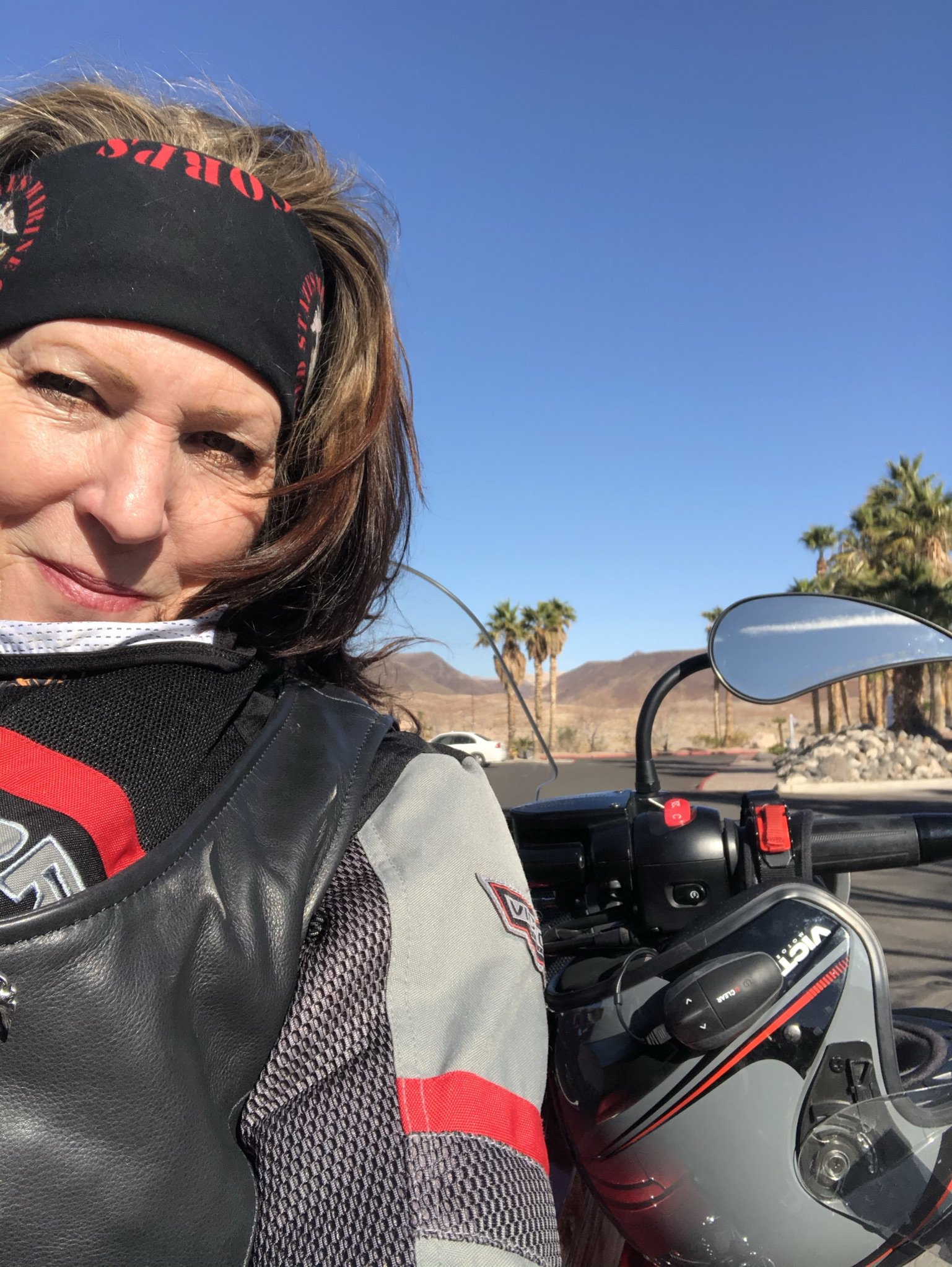 Posts

710

Joined

Last visited

Days Won

2
Profiles
Forums
Events
Articles
Everything posted by tyrant
I'm not a pizza fan but it really was pretty good! We devoured just over 8 of the 9.

For those that were in Springville UT (legs 10 - 11) and felt the aggravation we went through trying to enjoy dinner, see the below two reviews I posted to Yelp. Hopefully I properly captured the 'mood'. Cracker Barrel If we could give less than 1 star we would. On Friday, July 1st, I was part of a group of 20 motorcyclists passing through Springville, UT and staying at the Days Inn across the parking lot from this location. Due to the size of our group we tried to make a reservation for 6:30pm out of courtesy only to be advised CB wouldn't do a reservation - we had to just show up and give our name. We arrived at 6:30pm and gave our name and were told it would be a 45 minute (or so) wait - we moved outside and began our wait. After close to an hour, and watching many small groups come and get seated, I went to ask how much longer. At that point I was advised the manager had just told them not to seat anyone else and it was doubtful they would be able to seat us even if we waited another hour. We had sat there waiting an hour - they had my phone number - and we only found out because I stepped up to ask. Add to that, the manager would not come out to talk with me when I asked to speak with him/her. So, now it is 7:30pm and we have no place to go as we don't know the area and no one wanted to go gear up and try to find someplace else that could accommodate our group after already riding all day in heat and rain as we came from Las Vegas and Colorado. And we were starving. I think Cracker Barrel lost the future patronage of each of us not to mention the people that could see/hear what had happened to us were pretty disappointed with the poor treatment of us that they were witnessing. I get that we are living in trying times - I DON'T understand treating customers in such a poor manner. Pizza Hut On July 1st I was part of a group of 20 motorcycle riders coming in from Colorado and up from Southern Nevada/Northern Arizona. After rain for one group and heat for the other - we arrived hungry! We were staying at the Days Inn across the parking lot from Cracker Barrel and had planned our dinner at 6:30 there. After putting our name on their list and waiting an hour at CB we were advised they wouldn't seat us after all. At a loss, first thought was pizza. Called this Pizza Hut at 7:30 (close is 8apm) and asked them to make 9 pizzas. No hesitation. They made us all 9 pies and didn't skimp. Pies were delicious. Staff was very accommodating and kind. Cannot thank the staff for saving us from having to find someplace else so late in the evening in an area none of us are familiar with. You guys rock! Thank you, thank you, thank you!!!

Just a few more from 10-11 and 11-12. Took a new route on Leg 11 - pretty sure it was a success. Only nerve wracking point was getting hit by a dust devil. But we're tough! Thank you again to everyone that joined this Leg. Met fantastic new people and spent time with old and cherished friends. We started the day with 7 Visions, 6 Cross Country's, 1 Spyder and a truck. Picked up another Vision and Cross Country at lunch in Wendover. A total of 19 of us rolled into Ely NV around 2:30 (that time change got me!) and met up with Brent Fletcher. PS - have a bunch of other pics I tried to post but site is telling me they're too big. Darn it!!

Pretty sure Brent has done it twice. There are one or more others that have completed all legs as well but my memory escapes me. Tom Wise and/or Patti Rowe-Wise might know best.

We are a week away - I'm so excited to ride with and see all of you!!! There will be 23 of us for dinner. Nice group! Some are coming from the east coast and may not see this post - apologies in advance for that. The ride from Springville UT to Ely will have 14 - 16 bikes with a total of 16 people on bikes and two vehicles containing 3 driver/passengers. Due to the size of the group, we will follow group riding protocols. Trikes/3 wheelers to the back with the exception of my sweep rider - Randy Couch. Cages behind the sweep. Speed will be no more than 5 or so over depending on the road and conditions. There will be some slab riding and we might do a little more than the 5 - but not much. There will be a ride safety meeting before we depart the hotel in Springville. I will also share route maps just in case anyone gets separated. However, if we do get separated, we will either slow and wait and pull over and wait. I will do my best to ensure we don't make a road/direction change until we are all together however, there may be a bit of congestion getting out of the hotel and on to our true route. Thus, the maps to make sure everyone gets caught back up. There are to be 2 'true' stops not including the end stop. Distance to first gas stop will be 116. Distance to 2nd gas stop will be 93. Here we will have lunch and a surprise mini stop. My guess is around 11:30/12pm for lunch. Longest leg of the route will be the last one at 119 miles. Total miles for this leg will be 328. We will depart the hotel at 8am. This should put us in to Ely between 3pm - 4pm local time with dinner at 5pm. For those staying at the Jailhouse in Ely - please be sure you have a room booked in your name. I had blocked some rooms but I released the 'extras' back to the hotel today. I'm hoping no-one booked one of the rooms I had blocked and left it in my name. Note, some of you like Hotel Nevada and if that is where you choose to stay - that is fine. The hotels are across the street from each other. Both have bars and gambling! ? For those not familiar with Nevada - it is legal to walk down the street with a drink. It is not legal to stumble drunk in public. I've never seen anyone arrested for walking around drunk and stumbling but I know it is a law on the books. Just some odd trivia for ya! For Nardi's - for dinner - I've already arranged for all food based on your feedback. It will be brisket and ribs with Mac and bean sides and green salad. I went with majority rules. Don't worry - you'll like the food. Once I have the actual total per person I'll let you know what it is. Last estimate was $21.95 per person but I'm not sure if that is with tax. I'll cover the tip myself. We will pass by Nardi's on our way to the hotel on the right not far past the traffic light.. I'll point it out for those that have never been there. For those coming in from the west, the restaurant is past the hotel, will be on your left and is before you hit the block light. By the way - for those that have been to Ely before - the light between the Jailhouse and Hotel Nevada is gone. I don't even think it is a stop sign. I'm really looking forward to seeing old faces and meeting some new ones!! Till next Saturday!!! Donna aka Tyrant Leg 11 Ride Captain

I am soooo bummed about this. I'll grab your shirt for you. Will give me an excuse to come visit. ☺️

Please check your email and reply to the Saturday night dinner info if you haven't yet. I need to let the restaurant know soon so they'll have time to get food prices on food. Ely is pretty rural so I want to give them as much time as possible. Who's getting excited?? This girl!!!! ☺️

Please check your email and reply to the Saturday night dinner info if you haven't yet. I need to let the restaurant know soon so they'll have time to get food prices on food. Ely is pretty rural so I want to give them as much time as possible. Who's getting excited?? This girl!!!! ☺️

Ladies and gentlemen! Looks like about 20 of us will be on this ride. As best I know - 3 in POVs. Of the 17 riders I know of one couple that will be 2 up. There will be at least 1 trike and one Can Am. This means at least 14 bikes, 2 trike/can am style and two trucks. Of the 14 bikes - 1 will likely meet us along the way. We'll have a pre-ride meeting and for the late comers a private review when they join us. Route will be a bit different this year than previous years however - still almost impossible to get lost. ? I'm so excited to see you all!!! This is going to be epic!!!

I believe you can still register but not sure you can order a shirt anymore as they were special order this year and there was a deadline for submitting the order to have them made on time. Vivian or Tony would know best.

Try this link: https://2022vmcv2v.eventzilla.net/web/event?eventid=2138583859 or call me - you have my number! ☺️

Ok - I've realized that there may be riders wanting to jump in the ride that can't make the start. So the route this year will be as follows: Depart Days Inn in Springville UT at 8am Utah time to Mona, UT - 30 miles to Goshen, UT - 12 miles to Grantsville, UT - 74 miles - gas stop 15-20 minutes give or take (30 mins max) to Wendover UT for lunch 93 miles - gas and lunch 1 hour estimate - planning on Copper Kettle on UT side 11:30-12:00 surprise stop 15 minutes to Ely NV - 119 miles Planning dinner at Nardi's around 4-4:30 - she will only be open for us as the restaurant closes at 4pm - once I have an idea of how many to expect for dinner we'll figure out a menu and likely eat family style. If anyone has food preferences or restrictions please let me know. Current thought is BBQ style at $15-$20 per head plus tax and tip. Last time we did this we ordered for 15 and fed over 20 with food left over. You won't go hungry!

Can't wait to see you guys! Been way too long!!!

https://2022vmcv2v.eventzilla.net/web/event?eventid=2138583859 The cost is minimal and is designed to help offset the massive amount of work and cost that goes into planning, shirts, etc. Please register so each Leg Captain can better plan their route and stops. Come on - join the fun!!!!

Somewhere there is an Eventzilla to register but I can only fine it in my email - nowhere in here. So - I copied and pasted for you. ☺️ https://2022vmcv2v.eventzilla.net/web/event?eventid=2138583859

Am changing things up a bit from the Utah leg to Ely. Should be cooler than the old route. Got a cool surprise in store for this on Leg 11!

I called yesterday and booked direct. Guy was a bit of an idiot but I got my email confirmation so I'm good.