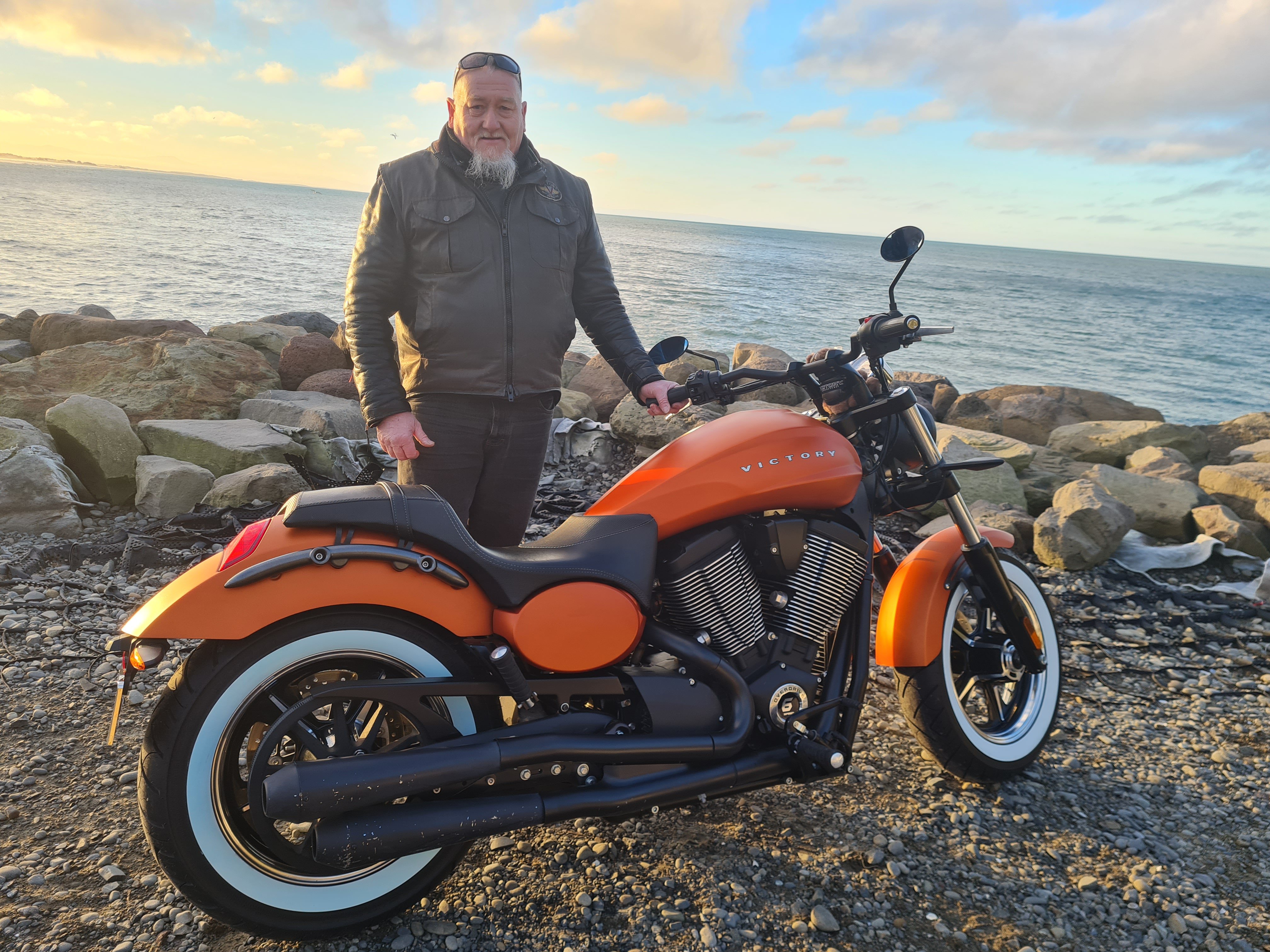 Posts

237

Joined

Last visited

Days Won

19
Kram's Achievements
Rare

Rare
Recent Badges
Hi all as President of Pure Freedom Victory Riders New Zealand I am now involved in the organization of our charity event here in Christchurch. At a recent meeting with the other organizers I was presented with a picture book that was made up of last year's event. Here is a picture of some members who was on this run. This year is going to be a bigger event with a bigger ride around the suburbs so people can see what bikes do for their community's there is going to be bigger prices and give aways for the people that are on the ride so looking forward to this day.

5

Yesterday was the conclusion of 2 months of work putting together the 3rd Christchurch City Mission Xmas Appeal And Toy Run. The day started out with a light drizzle to put a damper on the day. Registration and the start point was Foodstuffs Main North Rd as the morning moved on the rain went away to leave us with a muggy day very warm with the leathers on. Start time was at 9.30 but the group gathered up the road at 9.00 so we could ride in as a group. We parked up the bikes on site and went to register then we went around and said hi to those that were there and I went over to chat to the other organizers and set our final arrangements. At 11.00 we got all the rider's over by the register area for our safety rules and asked one of the motorcycle officers to speak on behalf as well we had managed to get about 130 rider's we were hoping for 300 but the weather was out of our control with the safety aspects over it was stands up for our ride around the suburbs to our final destination at the Woolston Working Men's Club. Was nice to see some people on the sidewalk with there kids giving us a wave. When we got to the WWMC and park up we all gathered together at the City Mission's van and placed the toys and food in it. Then we had the City Mission Vicar give a talk about how they would manage the Xmas appeal this year as of Covid19 they decided to make up food boxes instead of a massive feed past out with the parents getting a voucher for a kids toy to pick up as well. Then it was time for the main sponsor to have a say if it wasn't for Mike Pero Real Estate our job would have been a lot harder with Mike Pero starting to pass out the spot prizes witch we done by a number call as when registering you got one. Then it was my turn reluctantly to say thank you to the sponsors that the club got together ( a couple of our club sponsors put up prizes for helmets $200 apiece) and prizes for best dressed bike. Then it was into the club for a beer and a snack. Money raised in the first instance $1.500. Money raised from the ride $ 1.200. Money raised by charity tins soforth $450. There was over 200 toys for the kids. The sponsorship prizes came to about $ 1.000 witch without those people and businesses would not make this event as good as it could be. There was a professional photographer there and when I get those photos I will put up but for now I will put up some I took. Next year our team here in Canterbury will be a bit more involved in saying that we did a lot to make this event happen it is the 3rd year that this has been going and next year hopefully mother nature will play the game a bit more. To say the least this was very satisfying even if there was a lot of work putting it on we have been over a month just putting out all the flyers and getting sponsorship and then before that was the work I myself put in getting in touch with the right people and getting approval so I say thank you to the team and the people who helped put this together. Come on next year. Thanks Kram. President of Pure Freedom Victory Riders New Zealand.

Two weeks to go have been very busy getting sponsors for the spot prizes couldn't believe how many people and companies stepped up to help with this really good response ? all up about $2.000 this couldn't happen without their support ?

Pure Freedom Victory Riders New Zealand is involved with this great event. This is a charity to help the Mission put food on the table for those people that find it difficult to put on at this time of the year and for kids who may miss out on toys. Last year I went on the ride in support paid my $20 NZ and got my event badge and put in 2 toys 1 for a girl other for a boy. This year I asked the members if they would like to support and my Canterbury Riders all said yes. I approached the Mission and asked if we could help out they said that they would be happy for us too but to catch up with the organizers witch I did after a good talk on the phone then a meeting they were happy for us to help out then 1 of the organizers said to me look would you and your group like to be in on this next year as one of the two organizers was moving away I said I would be happy to but would have to ask the group. Happy to say that they all stepped up to the plate and said yes so a our next club meeting it will be put in the minutes to make it official ? So proud to be a part of this charity event and the group ?. Thanks Kram (President)?

Thanks for putting me right again Llama still thinking this will work as the day is a Sunday

Hi all not sure if this is the right place to say this but i am organising with my fellow members here in New Zealand a ride and meet for the 4 July witch is a Sunday down here. i have been told by a person who should know about things (llama) that this is the day VMC got started and as down here in NZ we will be the first to see this day in the world i made this the date. Now as we are 3 inlands here this caused a bit off a problem so the meet part will be done by a phone link up with photo's of a well known land marks with our bikes and hopefully us in them and i will post up. There are not many of us YET down here so i think this is posable . I hope this is okay by all on here please let me know if i am wrong and i will try to work though it .As always stay safe and say upright?. Thanks Kram?